A lifelong Sutter County resident, Karm Bains was elected to the Sutter County Board of Supervisors in November 2020. Making history, Sutter County voters were the first in the United States of America to elect a Sikh-American to a County Board of Supervisors.
A fourth generation Sutter County farmer, Karm is passionate about agriculture and smart development (growth). A businessman, Bains holds ownership in Coldwell Banker Commercial in Yuba City.
Karm cares deeply about the safety of Sutter County residents and businesses, improving our economy following the COVID-19 pandemic and reducing incidents of homelessness, delivering tangible results to the citizens of Sutter County.
Family is among Karm's top personal priorities. Together, he and his wife Harpreet have four children: a son, Barron Bains and daughters Meaghan, Jaya and Devika.
Karm previously served in an elected capacity as a Trustee for the Sutter County Board of Education and currently serves as a Governor-appointed Director for the 13th District Agricultural Association. Bains is a graduate of Sutter Union High School, attended Yuba Community College and Fresno State University and is an alumni of the California Ag Leadership program.
Karm is proud to serve the residents of District 4 and Sutter County. Karm strongly believes in being the voice of his constituents and invites you to reach out to him with your opinions and concerns.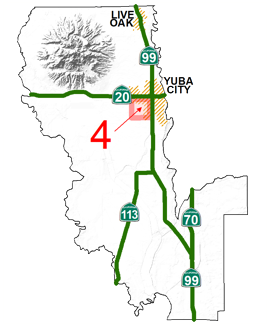 Interactive District 4 Map  
Supervisor Bains's Committee Assignments.