Live Oak Park & Recreation Area
Flatten the COVID-19 Curve
Address
1100 Pennington Road
Live Oak, CA 95953
View Map
Park Aerial Photo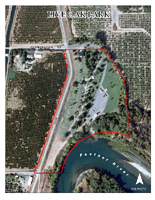 New Annual Day Pass for Live Oak Park
New Annual Day Use and Parking Fee Permit approved by the Board of Supervisors. An annual permit for Day Use and Parking at the Live Oak Park and Recreation Area can be purchased for $35.00 The permit is good for a 12 month period from the date of purchase and allows Day use (sunrise to sunset) and parking (no trailer) at the recreation area. The permit does not include overnight camping. Permits can be purchased at 146 Garden Hwy in Yuba City from 8am - 5pm Mon-Friday. The office accepts checks or cash and can not take Debit or Credit Cards. For more information please call 822-7410.
Directions
State Highway 99 into the city of Live Oak. Turn east on Pennington Road and travel 1 1/2 miles east to the park, Pennington Road dead ends at the park.
Hours of Operation
For boat launching and day use: 6:00 a.m. to 9:00 p.m.
The campground is open 24 hours a day, 7 days a week.
The gates close at 9:00 p.m. and open at 6:00 a.m.
Campground
Campground Host on site 24/7
21 paved camping stalls for RVs and trailers (1 ADA approved site)
Water connections
Each campsite has a picnic table, fire-pit, and barbeque
Large grassy areas, and lots of trees providing shade
Port-a-toilets available (1 ADA)
Laundry facilities available in cities of Live Oak and Yuba City
No showers, electrical or sewer connections available
Boat Launch Facility
May launch 2 boats at one time
Floating docks next to ramp to access boats and load people and supplies
Ample parking for boaters and day use
Large pull in stalls for vehicles and trailers
Fee Schedule Effective January 1, 2013
General Public
Camping
$15
Boat Launch or Day Use
$5
Groups of 50-64
(Advanced reservations required)
$125
Groups of 65 and larger
$2.50 per person in excess of 64 people
Boat Launch, Day Use & Parking Permit for all Sutter County Boat Launch Facilities (January 1, 2013 through December 31,2013)
$50.00 Resident
$100.00 Non-Resident
For questions, please call Sutter County General Services at (530) 822-7410 and ask for the Customer Service Desk for Boat Launch Facilities Permits or view the
Instructions Online
.
Contact:
General Services
Address:
146 Garden Highway
Yuba City, CA  95991
Phone Number:
(530) 822-7410
Fax Number:
(530) 822-7249