Sutter County Public Health Branch
To protect the health and safety of our community and staff, we will be closed to the public starting March 23, 2020 until further notice.
However, many services are being provided by telephone. See list below:
Public Health Main Line: 530-822-7215
For WIC services, call 530-822-7224
For information regarding the COVID-19 response, please see the Coronavirus Update page link below.
COVID-19 Vaccine Schedule
Coronavirus Update for the Yuba-Sutter Area
Updates are posted on our BePreparedSutter.org page.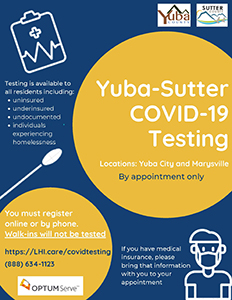 The Public Health Branch promotes and protects the health of our community through disease prevention and management programs, education on healthy living and emergency preparedness, and the implementation of various public health programs. By promoting public health programs, we are able to develop and provide resources that protect the health of you and your family and the community as a whole.
Programs at the Public Health Branch that promote and protect the community's health include:
Nursing programs that provide immunizations, follow-up for infectious disease cases, and case management for the specialized health needs of vulnerable populations;
Outreach, education and trainings on healthy living, behavioral health, safety, and emergency preparedness; and
The implementation of WIC, homeless, and other programs.
Current Items of Interest
---
Additional Links
Branch Director Public Health:
Leah Northrop, MPA
Health Officer:
Phuong Luu, MD, MHS, FACP
Address:
1445 Veterans Memorial Circle
Yuba City, CA  95993
Phone Number:
(530) 822-7215
Fax Number:
(530) 822-7223